When we started Folding Trees, back in June 2008, paper crafts were often neglected among today's crafters. We saw the need to showcase that there's so much more to paper crafting than just scrapbooking, and our goal was to collect the best tutorials we have found on the net, inspire you by highlighting amazing paper creations from talented artists and crafters, and share our own paper crafts and tutorials.
Since then, we have written close to 600 posts and found a loyal following of well over 5,000 readers per day. We're so grateful to all of you who have returned to Folding Trees every day to see what new delights we've uncovered! We have also established the thriving Folding Trees Flickr group which is full of beautiful paper art and crafts made by our talented readers.
Here are a few of our most popular original tutorials: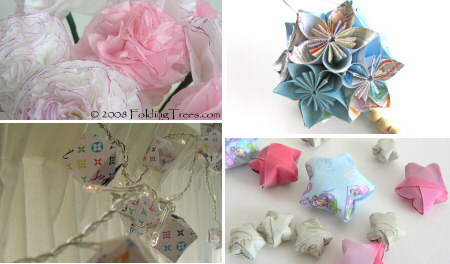 clockwise from top left:
1) June's Tissue Paper Carnations; 2) Eve's Kusudama Ball (part 1 & part 2);
3) June's Lucky Wishing Stars; 4) Eve's Balloon Lights
Now we feel that we've accomplished our initial mission to bring modern, stylish paper crafts to the world. The variety and relevance of making things from paper have been more widely recognized, and most of the other big craft blogs have picked up on this and are covering paper crafts too, with more time and resources than the two of us can afford. We have therefore made the difficult decision to step back from Folding Trees for a while, to allow us to spend more time with our families and to concentrate on our small businesses.
With Folding Trees, we have compiled a valuable resource as a source of inspiration and tutorials, and we hope you'll continue to visit us: all our previous posts are archived by categories in the right sidebar if you'd like to browse for inspiration, or you can use the Search box (also in the right sidebar) if you're looking for something specific. If you're looking for new papercraft ideas in the future, try visiting blogs such as One Pretty Thing, CRAFT and WhipUp for daily posts on all types of craft including papercraft, and of course our Folding Trees Flickr group, which we hope you'll continue to post pictures to, with links to your tutorials for the things you've made!
Thank you for all your support, and keep on crafting with paper!
Keep in touch with us on Twitter:
June @planetjune & Eve @Eve_FM
Posted: December 26th, 2009 by June & Eve under Announcements.
Comments: 46