Archive for 'Holidays'
I'm so excited to announce that my first papercraft book and kit, Paper Chains & Garlands, is now here! It's available to purchase exclusively through Barnes and Noble.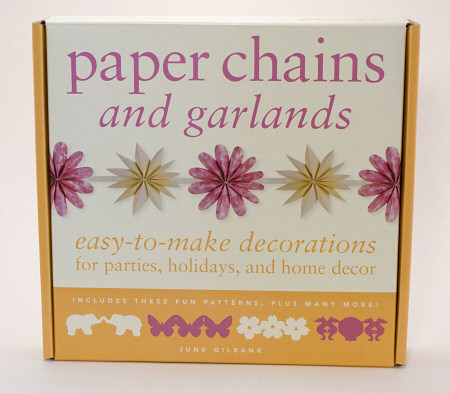 Front of box
I was hoping that I'd be able to sell signed copies through my website, but it turns out that the shipping costs for me to receive author copies from the US make that an impossible dream. So, instead, if you'd like to buy my book, I'd be very grateful if you'd click through from the links on my site, so I can make a tiny commission from your purchase!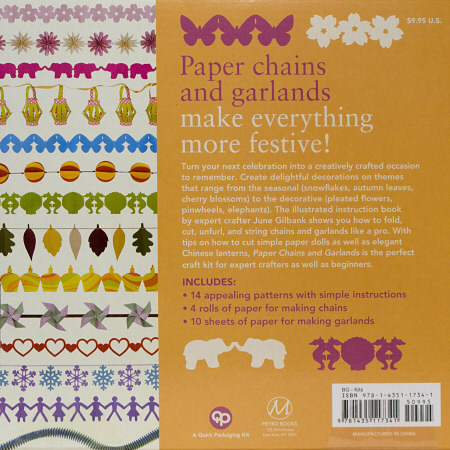 Back of box with pictures of all the projects down the left hand side
For those of you without a magnifying glass, the back of the box reads:
Paper chains and garlands make everything more festive! Turn your next celebration into a creatively crafted occation to remember. Create delightful decorations on themes that range from the seasonal (snowflakes, autumn leaves, cherry blossoms) to the decorative (pleated flowers, pinwheels, elephants). The illustrated instruction book by expert crafter June Gilbank shows you how to fold, cut, unfurl, and string chains and garlands like a pro. With tips on how to cut simple paper dolls as well as elegant Chinese lanterns, Paper Chains and Garlands is the perfect craft kit for expert crafters as well as beginners.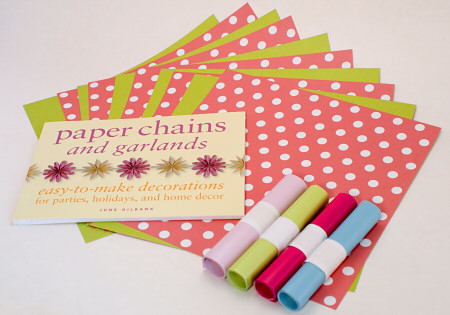 Inside the box: the book, 4 rolls of paper chain paper and 10 sheets of double-sided garland paper
The book has full illustrated instructions for all 14 projects and includes full-size templates.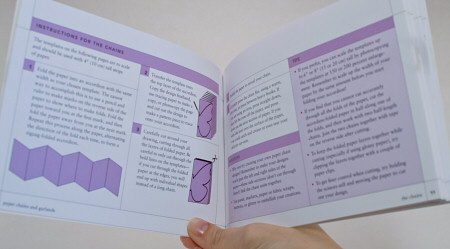 Inside the book: pretty colours, and full instructions & illustrations by me!
I hope you'll enjoy Paper Chains & Garlands. It's a sweet little book and kit, and would make a perfect Christmas gift, if you're thinking that far ahead!
If you'd like to buy it, please click through to Barnes & Noble now. It's a total bargain at only $9.95, so don't miss out! Thank you for your support
Happy Independence Day to all our US readers! Here's a really simple craft from Disney Family Fun to make these fold and snip stars – make them in red, white and blue for today, or any time as a simple decoration!
It's Father's Day tomorrow – but don't worry, we've got you covered if the kids still haven't made anything for Dad…
This Daddyland coupon book from Disney is just adorable:
Or check out HP for all sort of Father's Day cards and other printables:
Happy Father's Day to all the Dads out there! We'll see you on Monday
Stuck for Father's Day gift ideas? Check out Erin's template to make a cute shirt and tie tin. I especially like the paper-covered Riesen chocolates inside (yum!) – show me a dad who wouldn't appreciate those! You could also repurpose the shirt and tie templates to make a fun Father's Day card.
If you've been leaving your Easter crafting till the last minute, Design is Mine has put together a roundup of some cute Easter printables.
Happy Easter to those who celebrate it from both of us at Folding Trees!  We'll be back on Monday
Guest blogger Vicki Shields for Indie Fixx is sharing a tutorial for some very cute petite spring nests, based around a brown paper grocery bag.
Tricia-Rennea does it again with some pretty Easter gift tag printables, provided in pastel and bright colour schemes.
Ideem, an Italian site, have a free download for an Easter Bunny shaped box that you can print, cut out and assemble. You have to register with the site to download the file, but they have lots of other freebies to download too (I found some useful-looking display stand templates on there).
Updated: IDEEM have kindly provided Folding Trees readers with three discount codes valid throughout April, if their other vector graphics catch your eye while you are on their site! Check out the codes in the comments below. Thanks IDEEM!
It's time to start crafting for Easter. Zakka Life is sharing a lovely tutorial for an Egg holder.
Better Homes & Gardens share the pattern for this cute Easter treat basket.